In case you missed the super subtle title, today's my birthday! I figured this would be the only time this tag would be relevant and I had to do it today.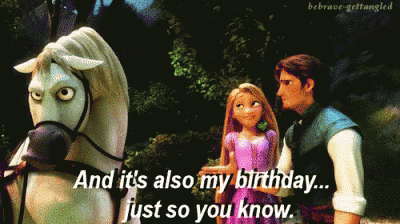 ---
---
Count Your Birthday Along Your Bookshelf and Then Subtract Your Birth Month
City of Fallen Angels by Cassandra Clare
If You Could Spend Your Birthday With Any Fictional Character Who Would It Be and Why?
Assuming that they're just going to show up at my door in the morning and we'll go off on a grand adventure in the real world? Jace Herondale. He would definitely make it the most enjoyable and memorable birthday (unless I'm in a book world where magic and butterbeer is involved, then probably Ginny Weasley).
Find A Book That Takes Place In The Season You Were Born In
A Court of Thorns and Roses by Sarah J Maas
This is the perfect book for the season question because my birthday is right on the line of winter and spring. The book begins in the midst of winter, but mere chapters into the story the main character finds herself in a land of spring.
Find A Book That Is The Color of Your Birthstone
The Rose and the Dagger by Renee Ahdieh
I've always loved the covers for these books.
Pick A Book Set In A Time Period, World, or Country You Would Like To Have Been Born In
Clockwork Angel by Cassandra Clare
I've always loved Victorian London, so if I were to be born in some time or place other than my own that would be the era and local into which I would have liked to be born.
---
I Tag:
You! Just bookmark it and maybe remember to do this tag when it's your birthday?
---