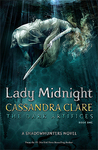 Lady Midnight by Cassandra Clare
My rating: 5 of 5 stars
I do not discuss any plot points in my review, so you will not be spoiled.
While the Dark Artifices may not be my favourite Shadowhunter series, I believe it is the most well written thus far. It is difficult to accurately judge, as this is only the first book in a trilogy but the more that Cassandra Clare writes – the better a writer she becomes. Her books have always been fantastic but Lady Midnight just felt like another step up. Cassie has clearly grown as a writer and storyteller over the years, which gives me so much hope for all her future Shadowhunter novels.
While it is possible to come into the Shadowhunter Chronicles with Lady Midnight as your first book, I would not suggest it. The Mortal Instruments is fantastic for that, as we follow Clary a girl who discovers that there is more to the world than the mundane life she thought she knew. The world building in that first series really lays the groundwork for Cassie's entire Shadow World. Even in the Infernal Devices, we mainly experience the Shadow World through the eyes of Tessa who has also not grown up with the knowledge of who she is. That is the first aspect that makes Lady Midnight so different from the previous two series – our two main characters Emma and Julian have grown up as Shadowhunters.
I felt that there was less world-building overall for the Shadow World, but that's not to say that the world building in this novel wasn't fantastic as can be expected from Cassandra Clare. The politics of the Clave and the Downworld, the role of the Shadowhunter and the world that they live in have been brilliantly described over the course of the novels that Cassie has written. It is for this reason that I feel that while it is not necessary to read the Infernal Devices or the Mortal Instruments before reading the Dark Artifices, I would highly recommend it. You won't necessarily understand the history or the events that led up to Lady Midnight as well as you could. There are also spoilers from the previous series and character cameos that you won't appreciate as much unless you read the previous series.
The world building the Los Angeles itself and the new aspects that Cassie writes about the Shadow World, like the Shadow Market, are absolutely fantastic in this book. With each book she writes in the Shadowhunter World, she continues to build and develop this immersive experience that is like no other. Her words are vividly descriptive and paint the image of the world in your mind. It is what makes her such an incredible writer and one of the reasons that I love her books so much.
Lady Midnight takes place in Los Angeles, the Institute that has been the home of the Blackthorn children for their whole lives. Our main characters, Emma and Julian are parabatai which makes for a nice change to the point of view that we have experienced before. You learn a lot more about the parabatai bond and its potential in this book.
With Helen exiled to Wrangel Island and Mark taken by the Hunt, Julian has had to raise his brothers and sisters for the last five years. This forced him to grow up a lot faster than he would have otherwise and changed him in various ways. He loves his family more than anything else in the world and would do anything for them, even if it meant crossing a line. That ruthless heart, willingness to betray, and capacity to lie was learned after the Dark War. Those were not traits that he had prior but were forced upon him when everything changed and the Clave tore his family apart.
Emma has made it her life's mission to discover who killed her parents at the end of the Dark War and why. That mystery has defined her every day, pushing her to train for hours at a time, run along the beach to get faster and turn her into an incredible Shadowhunter. She is also very sassy, quippy in conversations and the midst of a battle, which reminds me a lot of Jace.
The other characters we spend time with throughout the book are Julian's siblings: Ty, Livvy, Dru, and Tavvy; Cristina; Diana and Malcolm. Diana has a lot of secrets, which I'm sure we'll discover over time, but she's the character we end up knowing the least about. Beyond being their tutor, not wanting to take over the Institute and supposedly taking her travel year in Thailand, I can't tell you anything about her.
It was nice to see the Blackthorn children grow and develop from how we knew them in the Mortal Instruments to this series. Their familial relationship and interactions were authentic and heartwarming. You fall in love with them, just like you do with Cassie's other characters and understand Julian's plight.
Cristina is a Shadowhunter from the Mexico City Institute who decided to spend her travel year in Los Angeles. It was nice to get to know her because we don't always get to experience or hear from Shadowhunters from other Institutes. I really enjoyed her addition to the Blackthorn family (plus one) and the dimension she added. Plus, her backstory created a connection to the Scholomance and the Centurions which are going to add even more world building to the Shadow World we know – and I can't wait to see more of it.
Malcolm is the High Warlock of Los Angeles and although his personality is very different, you immediately like him. He's more playful and childlike at times than Magnus but seems to really care for the family. After falling in love with Magnus in the Mortal Instruments, and Catarina Loss to a lesser degree in Tales from the Shadowhunter Academy, I wanted Malcolm to be the next warlock character I loved.
There is so much betrayal in this book that I could never anticipate what was going to happen next. It doesn't just come from those you would consider "bad guys" but Shadowhunters, crooks and those with broken hearts alike. Cassandra Clare is the Queen of plot twists, fantastic character development and astounding, emotional rollercoasters in her books – and this was no exception.
Lady Midnight was a fantastic read that made me fall in love with the Shadowhunter World all over again or more than I was before? It's unclear. Either way, I adore this book and I actually think that I enjoyed it more the second time through. I would also highly recommend a re-read prior to Lord of Shadows because the novel is so packed full of incredible character development, world building and plot that you will appreciate its sequel more if the story is still fresh in your mind.