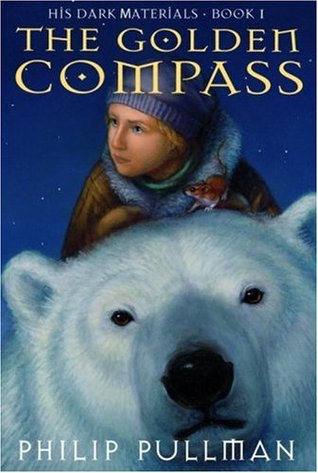 His Dark Materials Series
Knopf Books For Young Readers
Published: April 16th, 1996
Acquisition: Personal Book
Summary: 
Golden Compass
Here lives an orphaned ward named Lyra Belacqua, whose carefree life among the scholars at Oxford's Jordan College is shattered by the arrival of two powerful visitors. First, her fearsome uncle, Lord Asriel, appears with evidence of mystery and danger in the far North, including photographs of a mysterious celestial phenomenon called Dust and the dim outline of a city suspended in the Aurora Borealis that he suspects is part of an alternate universe. He leaves Lyra in the care of Mrs. Coulter, an enigmatic scholar and explorer who offers to give Lyra the attention her uncle has long refused her. In this multilayered narrative, however,nothing is as it seems. Lyra sets out for the top of the world in search of her kidnapped playmate, Roger, bearing a rare truth-telling instrument, the compass of the title. All around her children are disappearing—victims of so-called "Gobblers"—and being used as subjects in terrible experiments that separate humans from their daemons, creatures that reflect each person's inner being. And somehow, both Lord Asriel and Mrs. Coulter are involved.


Subtle Knife
Lost in a new world, Lyra finds Will–a boy on the run, a murderer–a worthy and welcome ally. For this is a world where soul-eating Specters stalk the streets and witches share the skies with troops of angels.
Each is searching–Lyra for the meaning of Dark Matter, Will for his missing father—but what they find instead is a deadly secret, a knife of untold power. And neither Lyra nor Will suspects how tightly their lives, their loves, their destinies are bound together . . . until they are split apart.


Amber Spyglass
In the astonishing finale to the His Dark Materials trilogy, Lyra and Will are in unspeakable danger. With help from Iorek Byrnison the armored bear and two tiny Gallivespian spies, they must journey to a dank and gray-lit world where no living soul has ever gone. All the while, Dr. Mary Malone builds a magnificent Amber Spyglass. An assassin hunts her down, and Lord Asriel, with a troop of shining angels, fights his mighty rebellion, in a battle of strange allies—and shocking sacrifice.
As war rages and Dust drains from the sky, the fate of the living—and the dead—finally comes to depend on two children and the simple truth of one simple story.
My Review:
Although this is very obviously a work of Christian-fiction, I would recommend it to any reader. It was one of those books that I always wanted to read, but just hadn't gotten around to. I am very happy that I am not able to say that I read the series.
The characters are well thought out and executed, while also developing throughout the series. Characters that initially seem like minor, relatively forgettable people are woven into the fabric of the plot and given backstories. Others are able to grow as the books progress or their motivations are uncovered. I really enjoyed getting to know the characters, their flaws, desires, dreams throughout the story.
The author also did a wonderful job with world building, giving each new place a life of its own whether it was familiar to us or not. Even short trips to new worlds were given breadth and dimension that made me enjoy the story further.
I don't want to give the story away, since I would recommend it to all – so just go read it. Enjoy it.
Verdict: Classic Read For A Reason
Star Rating: