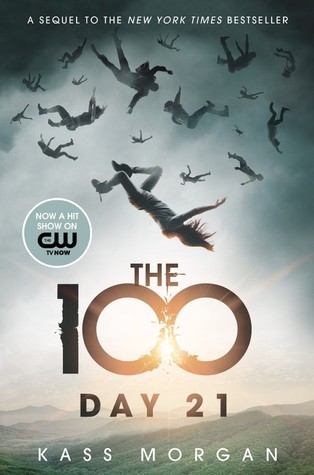 The 100: Day 21
Little Brown Books for Young Readers
Release Date: September 16th, 2014
Acquisition: NetGalley




Summary: 
No one has set foot on Earth in centuries — until now.
It's been 21 days since the hundred landed on Earth. They're the only humans to set foot on the planet in centuries…or so they thought. Facing an unknown enemy, Wells attempts to keep the group together. Clarke strikes out for Mount Weather, in search of other Colonists, while Bellamy is determined to rescue his sister, no matter the cost. And back on the ship, Glass faces an unthinkable choice between the love of her life and life itself.
In this pulse-pounding sequel to Kass Morgan's The 100, secrets are revealed, beliefs are challenged, and relationships are tested. And the hundred will struggle to survive the only way they can — together.
My Review:
This is going to be much shorter as I've already reviewed the first book (plus this isn't out yet). Also, fair warning there will be spoilers in this one as it's difficult to talk about without giving away any plot points or the development of relationships. I will attempt to reveal as little as I can.
While I am not well versed in the side effects and speed of oxygen deprivation, I suspect the portrayal of it is utterly inaccurate. What I do know is that a person can experience deadly CO (carbon monoxide) levels in less than a day when locked in an airtight room. Obviously, these people are not in an airtight room, but their spaceship is leaking the only oxygen that they do have at an alarming rate. One could calculate the time, but as I do not know the number of people in Walden or Arcadia, nor do I know the size of those two areas of the ship.
There is a great article for fiction writers that allows you to calculate the amount of time that your character would be able to survive in an airtight room. It also describes some of the effects that they would experience. While I do not expect the oxygen deprivation/carbon monoxide poisoning to be perfectly explained and accurate – I do expect there to be some degree of believability. Unfortunately, this is not the case.
Immediately upon the sealing of the craft, the author makes the reader believe that the people are already being affected. What makes the situation worse is that people begin to panic, using up the precious oxygen they need to rid their bodies of the carbon monoxide. In case you weren't aware, you take in oxygen so that it will bond with the carbon monoxide and be expelled from your body as carbon dioxide. (Obviously this is a very simple explanation, but I'm just trying to get a general idea across.) As they lose the oxygen around them, more and more carbon monoxide builds up in their lungs. With the number of people on the ship, I expect that after a few hours and certainly after a day they will have (if not run out) be dangerously low on oxygen. Yet, later on, two of the characters have spent a number of nights together and the lack of oxygen hasn't caused them to fall unconscious.
With the size and population being what it is, it seems unlikely that there would be oxygen left (as it's steadily leaking out.) And if there was any that there would still be enough to breathe relatively normally. This is what immediately made the pseudo-scientist in me questions how much research was done. Honestly, it doesn't take much to make it marginally realistic.
The characters are not as well thought out as they should be. Although flaws are to be expected, contradicting actions/personality aspects just make the reader confused. As obsessed as one character is with his sister, her well-being, and at times her location – he seems to quickly thrust her aside when the new girl gives him attention. Just as before, the relationships are like roller coasters. One act tears them apart, then in the next moment, all is well. Such an emotionally tiresome existence.
The first book had shadowy allusions to prostitution, a case of teen pregnancy, and the most emotionally indecisive characters that I have ever had the privilege to read about. This book has Stockholm Syndrome, inaccurate science, and trigger happy humans. As with the other book, it is enjoyable enough as a silly, simple read. Don't expect it to be more than that or you will be disappointed.
Verdict: Take A Chance
Star Rating: