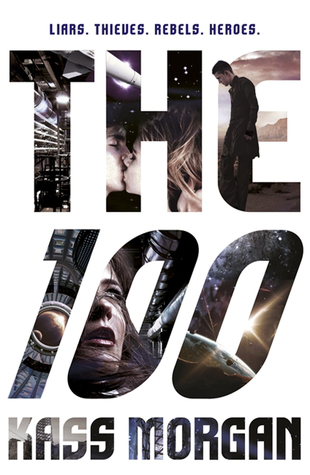 The 100
Little Brown Books for Young Readers
Published: September 3rd, 2013
Acquisition: NetGalley



Summary: 
In the future, humans live in city-like spaceships orbiting far above Earth's toxic atmosphere. No one knows when, or even if, the long-abandoned planet will be habitable again. But faced with dwindling resources and a growing populace, government leaders know they must reclaim their homeland… before it's too late.
Now, one hundred juvenile delinquents are being sent on a high-stakes mission to recolonize Earth. After a brutal crash landing, the teens arrive on a savagely beautiful planet they've only seen from space. Confronting the dangers of this rugged new world, they struggle to form a tentative community. But they're haunted by their past and uncertain about the future. To survive, they must learn to trust – and even love – again.
My Review:
"The door slid open and Clarke knew it was time to die." What a way to start the book. Kass Morgan dives right into her storyline with an in-your-face opener. It took a bit of time before I, as the reader realized what this book was about. She began by setting up a number of characters, switching between perspectives, to quickly introduce you to the players. Those people who will have the biggest impact upon the storyline.
Each character is thrown into the mix, destined to be sent to Earth. The first in a long, long time. While not all make it, we are still treated with back stories and past relationships. Had the author not included those scenes, her characters would have been much more difficult to relate to. You come to briefly understand what the person goes through, exactly why he/she is so angry and hurt, and what they each did to become subjected to the fate of the 100.  Personally, I would have preferred that greater attention had been given to character development rather than relationship development.
The Earth was unliveable for so long, and yet they send these 100 "children" as guinea pigs, rather than trained professionals. People who could colonize, build shelters, feed the colony, study the land and environment, or even tend to the ill. Instead, these youths are forced to come together with a common goal – survival.
One gets to a certain point in the novel and then realizes they don't entirely know what these different living situations/names mean. Of course, the Walden and Arcadian people seem to be of a lower class, economic, and social standing than the Phoenix. Walden also had an outbreak at one point that had to be quarantined. But beyond that? I'm not entirely sure what the distinctions are. Clearly, the Phoenix people are "posh", with foreign accents, prone to extravagances and taking what they have for granted. But how did they come to be in that, dare I say, caste to begins with? Were people settled based upon their original locations on Earth? Or perhaps based upon the money/knowledge they could provide? Unfortunately, that aspect of the story is not very clearly explained. It seems that the author took more time to focus on the intricacies of the relationships than the world building.
Sometimes the author was redundant, choosing to repeat the same fears/desire over and over again. Yes, we understand that the medicine is missing. Was it flung from the ship before the crash or during? Can they survive without it? We don't know yet, but if we didn't realize the medicine was important the first time it was mentioned… We certainly realized it after the tenth.
This book has a very unique concept in that it combines the post-apocalyptic Hunger Games or Divergent-type Earth with space. While it may exist in other novels, I've not yet read something similar. Where it does seem to follow typical YA novels is the fact that it has a love triangle. Those seem like they are a requirement, as they are in most popular young adult novels. (HG, Divergent, TMI, Vampire Diaries, etc.)
There is a bit of mystery in the book as well. It seems that the reason one of the characters is arrested must be kept a secret, even from the reader. The author continuously has the girl think to herself, 'Why isn't he asking me about my confinement?', 'He's happy, this is for the best [that he doesn't know.]', and even has her love interest say "I heard a rumor about a girl on Phoenix who was arrested for…" Yes, there was a dramatic pause. And no, he does not finish his sentence. After the third or fourth time, the author finally reveals the girl's situation during a flashback.
Throughout the novel, the author develops the relationship between two main characters. Unfortunately, it's a bit jarring and sporadic. It quickly jumps from bitter hatred from the moment they step foot on Earth to reconciliation after one act, then back to hatred. Again, after one act. While relationships can be a roller coaster, this is a bit too authentic to the carnival ride.
The relationship is not perfect, especially when she has a second possible love interest. A guy who after only a short while, thinks of only her before he falls asleep. That girl must be something. The first time they really spend any time together, he decides that making out is the best course of action. Much to the dismay of her other love interest, though it does not dissuade him. Sound familiar?
It doesn't take long before he snaps at her and their brief… Whatever it was is over. Or is it?
They must be masochists because it seems they're just gluttons for punishment and emotional, gut wrenching hurt… Or just those that don't learn from history. (Doomed to repeat it and all that.) Who would continuously subject themselves to that kind of torment? Move on and let yourself heal. It's not a post-apocalyptic world that only the two of you can repopulate… There are other individuals in camp with you. (Like the second guy you may or may not like, but that you certainly make out with in the woods.) But that's just my perspective.
While I found myself bemused and skeptical at times about certain aspects of the book, none of those times corresponded to the purposefully exaggerated environment that they must adapt to on Earth. Rather it is the progression of relationships, situations characters find themselves in, and utterly disastrous karmic intervention. Seriously, they must have really messed with the world for it to so perfectly separate two lovers as it does.
I suspected there would be a particular plot twist and unsurprisingly it came to fruition approximately 98% of the way through the book. I'm intrigued to see where the author takes it and how it will develop in the sequel – The 100: Day
21 (which is next on my review list!)
I find myself enjoying the read, dispute the obvious flaws one notices whilst reading it. If you take it as an easy, enjoyable read – then that is what you will come away with. If you expect it to be a fantastic piece that delves into the human psyche to truly draw you into a character's life and relationships – then you will be quite disappointed. Overall, I would recommend this novel to those who enjoy dystopian, teen romance series.
Verdict: Take A Chance
Star Rating: