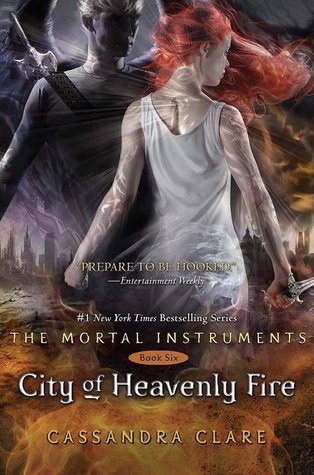 City of Heavenly Fire
The Mortal Instruments
(Book 6)
Margaret K. McElderberry
Published: January 1st, 2014
Summary: 
In this dazzling and long-awaited conclusion to the acclaimed Mortal Instruments series, Clary and her friends fight the greatest evil they have ever faced: Clary's own brother.
Sebastian Morgenstern is on the move, systematically turning Shadowhunter against Shadowhunter. Bearing the Infernal Cup, he transforms Shadowhunters into creatures out of a nightmare, tearing apart families and lovers as the ranks of his Endarkened army swell.
The embattled Shadowhunters withdraw to Idris – but not even the famed demon towers of Alicante can keep Sebastian at bay. And with the Nephilim trapped in Idris, who will guard the world against demons?
When one of the greatest betrayals the Nephilim have ever known is revealed, Clary, Jace, Isabelle, Simon, and Alec must flee – even if their journey takes them deep into the demon realms, where no Shadowhunter has set foot before, and from which no human being has ever returned…
Love will be sacrificed and lives lost in the terrible battle for the fate of the word in the thrilling final installment of the classic urban fantasy series The Mortal Instruments!
My Review:
The conclusion to the Mortal Instruments was certainly a pleasing one. There is nothing worse than reading a great book or series or perhaps watching a TV show that creates a multitude of story lines… And then fails to resolve them. It leaves the reader with a sense of dismay and confusion. What happened to my favourite character? Did the problem ever get resolved? No one likes that feeling.
Cassandra Clare did a wonderful job of making the reader feel like the series had all of its loose ends tied up. People found or lost their loves. Villains plotted and heroes fought. It was beautiful. (And incredibly long.) I never found myself drifting from the text, although I love long books so I may be biased. Each change of scene held my attention and I was loathe to put the book down each night to go to sleep. While I am sure that there were some scenes or dialogue that could have been trimmed to improve the flow of the novel, I never found those things distracting to me as the reader. I also praise Cassandra Clare for the way she writes her dialogue. The characters seem so much more realistic as a result. I find myself laughing at the jokes or smirking when Jace or Clary say something snarky/sarcastic. I'm left with lines or quotes that I absolutely love (and save to my Goodreads quotes.)
 SPOILERS:
 I love Jace and Clary's relationship. They are supportive of one another, and I believe bring out the best in the other. But they are not perfect, which makes the coupling that much more authentic. You relate to Clary (unless you're a brunette bombshell, Izzy, or you know… Excessively hairy and prone to outbursts when the moon is full, Maia) because she is authentic. She has her selfish moments, times when she is incredibly strong and others when she's unbelievably stubborn. Jace is the guy you wish actually existed because he's strong, protective, and maybe, when he lets his guard down, just a little bit sensitive. I'm just wondering one thing – why did Jace expect to have sex (for the first time, mind you) with Clary in the demon dimension? The one they expected to die in. Boys.
 Izzy and Simon? Well, they don't make as much sense but are still cute together in their own way. Simon is generally the perfect sidekick. The best friend you always wanted and sometimes the one you never knew you needed. Izzy is the female archetype that you should live up to – tough, courageous, and loyal.
Verdict: Must Read!
Star Rating: