I wanted to catch up on some of my Disney-inspire, BRP original tags so now we have Brave!
---
Scotland: Land of Magic, Castles, and will-o'-the-wisps
Name a magical book setting
Since I read 99% fantasy, they're pretty much all magical book settings. But who wouldn't want to go to Hogwarts?
Clan Dunbroch: Merida's family clan
Name your favorite bookish family/gang
Oh, oh no. The Inner Circle? The Rampion Crew? The Dregs? Don't make me choose!
Merida: princess, brilliant archer, and doesn't need any man
Name a heroine who doesn't accept her fate
Celaena fights her fate at first in Throne of Glass. Clary fights her fate of being a 'mundane', refusing to accept being kept in the dark in the Mortal Instruments.
The Highland Games: Eligible Fight for Merida's Hand in Marriage
Name a book where the stakes are high
Bone Crier's Moon has some pretty high stakes… the dead roaming the world and all that.
Changing Fate: Merida Eats Some Enchanted Cake
Name a book where you thought it was going one way, but turned out to be a whole different way
A Court of Thorns and Roses started one way and did a 180 in a Court of Mist and Fury, total surprise for like 99% of readers (unless you're a serial spoiler Google-r).
Elinor: Mama Turned Mama Bear
Name a character that goes through a big transformation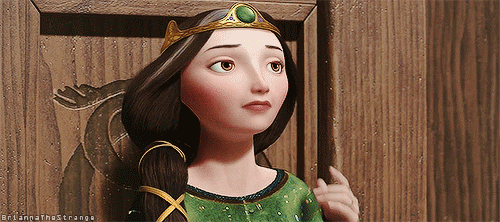 Alessandra from the Shadows Between Us. No spoilers though.
Bear Brothers: Adorable, Mischievous Baby Bears
Name some of your favorite scene-stealing characters
Iko from the Lunar Chronicles. Total scene stealer.
Mor'du: Demon Bear, Secret Prince
A Villain With a Complex Backstory
Prince Cardan from the Cruel Prince. I'm so confused by how I feel.
---
And I tag…
Anyone that loves Brave and Merida and Disney! Or if you're super bored and just want an amazing BPR original tag to tackle, because they're pretty awesome.
Do you agree with any of my answers? Do you think I'm totally crazy and my picks make no sense? Let me know in the comments!