I mean, obviously all of them? But which books do I own that either have a strong memory associated with them or can't be replaced… that's tough.
Top 5 Tuesday is a weekly meme that the lovely Bionic Bookworm does. If you are interested in doing any of her topics on your blog she welcomes it! Don't forget to check out her upcoming topics if you're interested in participating in future Top 5's! Be sure to check out her post here!
Books I'd Save From A Fire: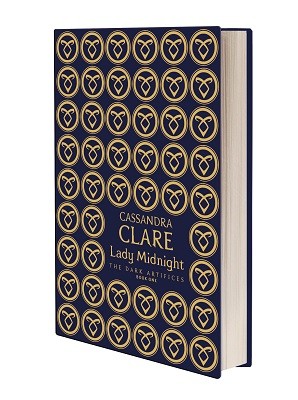 Lady Midnight by Cassandra Clare
I purchased this Waterstones edition, which was personally signed by Cassandra Clare and only 1,000 copies were printed.
Harry Potter and the Sorcerer's Stone by J.K. Rowling
I discovered these leather bound Harry Potter books one day on eBay which have a printed signature inside them from J.K. Rowling. They were definitely special editions, but since they probably came out when I was still a kid I didn't know about them so I don't have much information. All I know is that they're pricey in general on eBay so that must mean they're special? Plus it's the closest I'll probably ever get to actually having Rowling's signature.
Harry Potter by J.K. Rowling
But also, my original Harry Potter books… like the ones I've had since they came out. They have been read and loved so many times.
I really can't choose any more because it's like putting me in a room full of puppies and then saying, choose one. Seriously? One? But they're puppies, I NEED THEM ALL. So I picked a few special books but I can't narrow it down any better than this so my last two are just ALL DA BOOKS. That's my answer and I'm sticking to it.
What books would you save from a fire? Which of my choices do you agree with, or want me to be most specific about choices four and five? Let me know in the comments!