I had to ask my mom about this because she is an avid watcher of the show. My picks were initially people who I'd probably prefer to be on my team in the Hunger Games, even though THG doesn't have teams.. and she reminded me that they should also be likable in some fashion or charismatic because people have to vote for them at the end to win.
Top 5 Tuesday is a weekly meme that the lovely Bionic Bookworm does. If you are interested in doing any of her topics on your blog she welcomes it! Don't forget to check out her upcoming topics if you're interested in participating in future Top 5's! Be sure to check out her post here!
Characters Who Would Win Survivor:
Jace Herondale – The Mortal Instruments
He would just charm the pants off everyone and win all of the challenges.
Rhysand – A Court of Mist and Fury
I'm going to be honest, Rhys would do exactly the same thing as Jace.
Ginny Weasley – Harry Potter
She's bright, athletic and charismatic (when she isn't a small child faced with her crush). Plus she can cast a mean bat-bogey hex on anyone who crosses her.
Nina Zenik – Six of Crows
She is one tough lady who I think can also charm the rest of the people on the show.
Cinder – The Lunar Chronicles
Cinder is smart and with her cyborg implants she'd be tough to beat. I'm not sure how she'd do on the charisma front (and my mom's suggestion that she'd glamour them just makes me shake my head. She's only halfway through Scarlet.)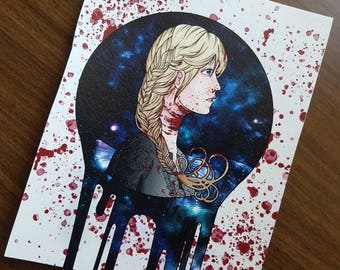 Hanna Donnelly – The Illuminae Files
As I am currently reading Obsidio, the leads from the series are definitely on my mind. I struggled to choose because they all go through a lot and are tough, but I tried to keep in mind the other aspects of the game. I think out of all of them, Hanna would be most likely to win Survivor. She's smart, tough and a brilliant tactician.
Who do you think would win Survivor? Let me know in the comments!