Happy Independence Day, America! Today was the day that many brave souls banded together to declare their independence from Great Britain (sorry guys) which sparked a bloody war that ended with a brand new country – the United States of America.
Whether you are a fan of historical fiction or history, patriotic reads or actual texts from the time of America's birth – I hope you find a book that speaks to you on this list!
18th Century Reads
This is one of the quintessential texts from the 18th Century that sparked the Declaration of Independence.
This is one of those must-reads (if you're a citizen of the United States) because you should know the history, rights, and ideals of your country.
The Federalist Papers by Alexander Hamilton, James Madison and John Jay
These were the papers defending the Constitution with passion and soul so that the Constitution would be adopted by the various states.
Historical Biography
This is the book that inspired Lin Manuel-Miranda to write his popular musical (and probably subsequently inspired many people to read this book due to their obsession.)

This Pulitzer Prize winner follows the life of one of the Founding Father's and the second President of the United States.
1776 by David McCullough
This bestseller takes readers on a journey through the American Revolution with George Washington and other familiar figures from American History.
Historical Fiction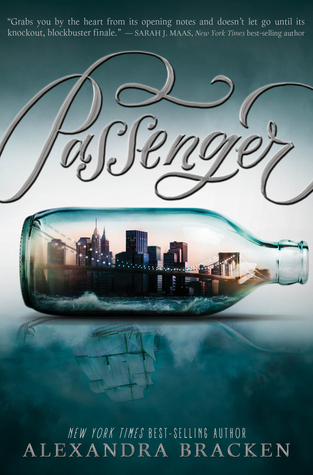 Passenger by Alexandra Bracken
This book is not really historical fiction about that era, but it has scenes which take place during that period of history (and is a great book – you can read my review here).
This isn't from the American Revolution, but it is a historical (and very fictional) take on a famous figure from American history. So that counts, right?
Chains by Laurie Halse Anderson
Chains follows the life of a slave during the Revolutionary War and her fight for her own freedom.
Classics
Important Figures in America's History
Abraham Lincoln may not have been around during the American Revolution, but he was a key figure in another part of America's history – so I wanted to include his biography. He is also brilliant for choosing to surround himself with people that would challenge him and make him a better leader, even if they didn't agree with him than only listening to yes-men.
This is a collection of Susan B. Anthony's speeches, letters, and quotes with commentary added by the author. As a proponent of Woman's Suffrage Rights, Susan B. Anthony is an incredibly important figure in American history.
As an activist, writer, and first lady – Eleanor Roosevelt inspired many and made the position of First Lady one that could evoke change, rather than being a purely ceremonial honour. Who wouldn't want life advice from her?
Are there any books that you consider must reads about America's history, the men and women who shaped the nation or even historical fiction takes on events of the past? Let me know in the comments below!