This is the first Top 5 Tuesday that I am taking part in – but I just couldn't pass up this opportunity to fangirl. To be honest, I had a lot of trouble coming up with my list. As much as I love the Harry Potter series, I think having grown up with the books I never really fell in love with a character in a book boyfriend way. I tried to think of one that would work, alas, I could not.
Top 5 Tuesday is a weekly meme that the lovely Bionic Bookworm does. If you are interested in doing any of her topics on your blog she welcomes it! Here is a list of her upcoming topics if you're interested in participating in future Top 5's! Be sure to check out her Book Boyfriend post here!
Jace Herondale – The Mortal Instruments
Jace was probably the first book character that I fell in love with. He is sassy, fiercely loyal, cocky and so utterly hilarious. He legitimately has all of the best lines in the books and has made me laugh out loud on numerous occasions. He holds the weight of the world on his shoulders and will do whatever it takes to protect the ones he loves. Jace always has and forever will be my ultimate book boyfriend. Can he be real already?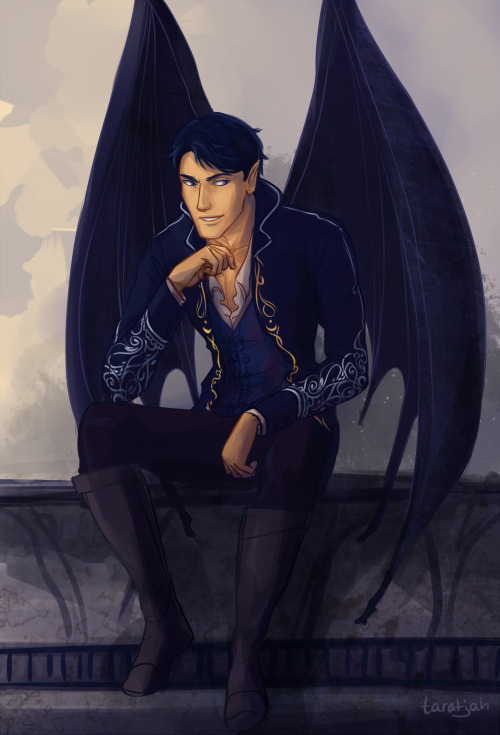 Rhysand – A Court of Thorns and Roses
Rhysand, oh Rhysand. You are my most recent favourite book boyfriend. Although I have only known you for a year, you are almost as beloved as Jace. But I'm sorry, no one can beat Jace. Rhysand is amazing and so willing to sacrifice everything for those he loves. Do I sense a theme here? Also, those wings. I can't imagine how incredible it would be to fly with him.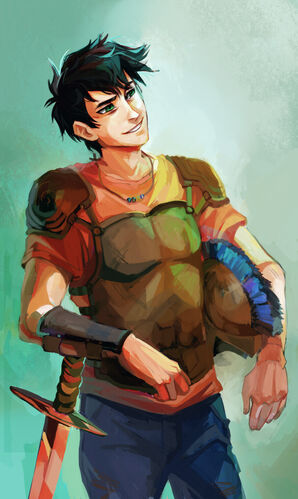 Percy Jackson – Heroes of Olympus
It's my demi-god boyfriend, son of the sea god Poseidon. I am obsessed with Greek mythology and have been since the 6th grade. I may not have immediately fallen in love with him, gosh guys he was twelve – but once the Heroes of Olympus came out I felt a little better. (He would be turning 24 this August in the real world.) Percy is so funny and has so many great battle quips. Everyone always tells me that I would be a Daughter of Athena, aka Annabeth who is Percy's girlfriend, so I think that pretty clearly shows that Percy and I are meant to be together. (Okay, everyone except my dad who said Aphrathena but I can't ever imagine myself being a Daughter of Aphrodite. That's crazy. Although Piper is…)
Stefan Salvatore – The Vampire Diaries
I love Stefan so much, I even played him in a roleplay (on Tumblr) for a number of years. To be honest, this is one of the few situations in which the book is not better than the other medium. Although I liked the books when I first read them, I loved the show so much more when it premiered. Stefan struggles with his vampirism, but he is still kind and caring. Despite Damon's many mistakes, Stefan never gives up on his brother and that loyalty is commendable. (It doesn't hurt that Stefan is played by Paul Wesley in the tv show.)
Will Herondale – The Infernal Devices
Let's just say I love a good Herondale. Will goes through so much and yet at the end of it all, his heart is not changed. He is caring, well-read (who doesn't love a fellow bookworm) and witty. As much as he had to sacrifice growing up, he managed to stay a good person and in the end had a wonderful life.
TBT-esque Honourable Mention
Jasper Hale – Twilight
He wouldn't be on my list today, at all, but when Twilight first came out (although I don't think I discovered the series until Eclipse was released) I think I was just in high school and still obsessed with vampires. (Not to say that I don't love vampires anymore, but back then my favourite series were Vampire Kisses, Vampire Academy, House of Night, Vampire Diaries, Morganville Vampires.. I think you get the hint.) I only identified with Bella in so much as we both had brown hair, but I really liked Alice and Jasper. I even remember my library having a release party for Breaking Dawn. We were making t-shirts and everyone was either writing Team Edward or Team Jacob, some wrote Mrs. Cullen. Being the rebel that I am, I wrote Team Jasper. I honestly didn't really care about Bella's love life. (Although if you forced me to choose, I go with the more healthy werewolf romance than the creepy stalker one.)
What did you guys think of my list? Who would be on your book boyfriend list? Let me know in the comments below!